Loots Cape
Release date
9 January 2018
Members
No
Slot
Back
Recolourable
No
Description
A cloak for streamers.
This cosmetic will not display
in PvP-enabled areas.
[view] • [talk]
The Loots Cape is a cosmetic override for the cape slot that was first made available on 9 January 2018 via January's Twitch loot crate [1]. However, the cape could be obtained as early as 1 January 2018, before the first January stream, if the player saved a previously obtained loot crate and opened it in January [2]. It was a guaranteed reward from Twitch loot crates obtained through the LootScape livestream on 28 January 2018, 30 January 2018 and 4 February 2018 [3]. It came back as a guaranteed drop again from LootScape livestream on 5 June 2018, 8 June 2018, 10 June 2018 and 1 July 2018 after Menaphos Birthday Celebrations update [4].
Gallery
Trivia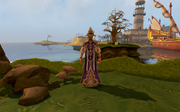 This item was originally added to the game config on 1 July 2014.

The cloak was originally meant to be obtained by linking your Twitch account with your RuneScape account and redeeming a code at Diango.[5]

This item was previously called the Runestream Cloak in the game config.
References
Community content is available under
CC-BY-SA
unless otherwise noted.