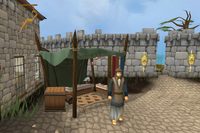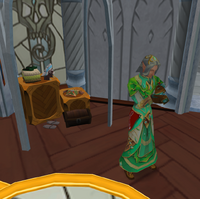 The Loyalty Programme Shop is where you previously bought rewards from the Members Loyalty Programme. It is today used for reclaiming auras, recolouring items and claiming your jack of trades reward. There are four shops; one located in Burthorpe near the Warrior's Guild with Xuan, one in the market square in Varrock with Xuan, one in the centre of Prifddinas with Dilwyn, and one in the Merchant district in Menaphos with Wafa. Upon release date, most of the items were heavily discounted, and each LP member got 500 points.
The loyalty shop was closed for refurbishment on 16 August 2013, in preparation for being merged with Solomon's General Store.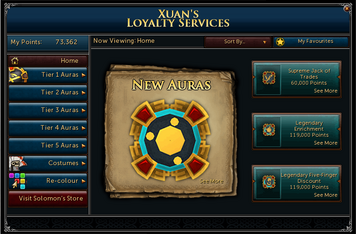 Auras
The Auras are equipped in the aura slot. They can be purely cosmetic, add a combat bonus, or give a special effect. The auras are grouped into five classes, the highest class/tier being Tier 5.
Recolouring
The loyalty shop offers the ability to recolour certain items from a selection. This can be achieved by using the item on Xuan and choosing which colour you wish. Note, that when purchasing a recolour you gain the ability to do this as many times as you want.
The following items can be recoloured:
Trivia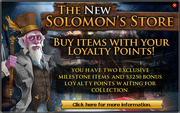 Due to larger than usual amounts of players on the RuneScape servers upon the day of release, the shop was originally unavailable to many players. RuneScape News
For the first 2 weeks the Dervish costume's price was reduced to 100 points and the rest to 400 points.
On 21 September 2011, new loyalty rewards were released, including 4 new costumes, 6 new emotes, 3 new re-colours of items and at least 15 new auras, all of which were tier 2 auras, except Wisdom, the first tier 3 aura ever released.
While playing in the fixed screen setting, some players would experience a glitch where the shop window would not completely close out after the player would exit it.
On 3 September 2013, it was updated so that you can now use loyalty points to buy several items from Solomon's General Store.
Bank boosters were said to be added to the Loyalty Shop, but never were due to difficulties. Instead of this, players were given a free +50 bank booster and later merged the Loyalty Shop with Solomon's General Store.[1][2]
References
Miscellaneous

Male Hairstyles
Female Hairstyles

Outfits
Accessories
Animations
Pets
Skilling

Tier 1
Tier 2
Tier 3
Tier 4
Tier 5
Prayer

Tier 1
 Corruption
 Harmony
 Salvation
Tier 2
 Corruption
 Harmony
 Salvation
Tier 3
 Corruption
 Harmony
 Salvation
Tier 4
 Corruption
 Harmony
 Salvation
Asgarnia

Burthorpe
 Carwen Essencebinder Magical Runes Shop
 Gaius's Two-Handed Shop
 Gnome Shopkeeper's Armoury
 Toad and Chicken
Burthorpe Supplies (removed)
Corporal Boothe's Armoury (removed)
Dwarven Mine
Entrana
 Frincos's Fabulous Herb Store
Falador
Port Sarim
Rimmington
 Rimmington General Store
 Brian's Archery Supplies
 Rommik's Crafty Supplies
Taverley
Other areas
Feldip Hills

Gu'Tanoth
 Dal's General Ogre Supplies
 Grud's Herblore Stall
Jiggig
Oo'glog
 Gift Shop
 Fresh Meat
Fremennik Province

Etceteria
 Etceteria Fish
 Island Greengrocer
Jatizso
Lighthouse
 The Lighthouse Store
Lunar Isle
 Moon Clan General Store
 Moon Clan Fine Clothes
Miscellania
Neitiznot
 Neitiznot Supplies
Rellekka
Guilds

Champions' Guild
Cooks' Guild
 Pie Shop
Fishing Guild
 Fishing Guild Shop
Heroes' Guild
Legends' Guild
Ranging Guild
Thieves' Guild
 Dodgy Derek's Dirty Deals
Warriors' Guild
 Warriors' Guild Armoury
 Warriors' Guild Food Shop
 Warriors' Guild Potion Shop
Wizards' Guild
 Magic Guild Store - Mystic Robes
 Magic Guild Store - Runes and Staves
Kandarin

Catherby
East Ardougne
King Lathas's training ground
Piscatoris Fishing Colony
 Arnold's Eclectic Supplies
Port Khazard
 Khazard General Store
Tree Gnome Stronghold
Tree Gnome Village
 Bolkoy's Village Shop
West Ardougne
 West Ardougne General Store
Seers' Village
Witchaven
 Lovecraft's Tackle
Yanille
 Aleck's Hunter Emporium
 Frenita's Cookery Shop
 Pet Shop
Other locations
Karamja

Brimhaven
 Davon's Amulet Store
 The Shrimp and Parrot
Herblore Habitat
Musa Point
 Karamja General Store
 Karamja Wines, Spirits, and Beers
Shilo Village
 Obli's General Store
 Fernahei's Fishing Hut
Tai Bwo Wannai
TzHaar City
 TzHaar-Hur-Lek's Ore and Gem Store
 TzHaar-Hur-Tel's Equipment Store
 TzHaar-Mej-Roh's Rune Store
Kharidian Desert

Al Kharid
Bandit Camp
 Bandit Bargains
 The Big Heist Lodge
Bedabin Camp
Duel Arena
Menaphos
Monkey colony
 General Store
 Gem Store
Nardah
Pollnivneach
 Pollnivneach General Store
 The Asp & Snake Bar
Sophanem
Other areas
Morytania

Burgh de Rott
 Aurel's Supplies
Canifis
Darkmeyer
Meiyerditch
Mort Myre Swamp
 Wishing well
Mort'ton
 Razmire General Store
 Razmire Builders' Merchants
Port Phasmatys
 Port Phasmatys General Store
 Alice's Farming Shop
Troll Country and Keldagrim

East Keldagrim
Troll Stronghold
West Keldagrim
Community content is available under
CC-BY-SA
unless otherwise noted.