Lumbridge Fishing Supplies is a food shop that sells fishing supplies. It is run by Hank. It is located north of Lumbridge Castle. It is the only fishing store in RuneScape to stock crayfish.
History
The Battle of Lumbridge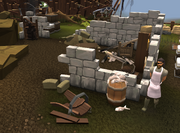 The shop was damaged greatly during the Battle of Lumbridge when Saradomin and Zamorak returned to Gielinor at the start of the Sixth Age. Hank, the owner, fled his house when he heard a large rumbling, and witnessed his neighbour, Explorer Jack, fleeing from his own house, which then collapsed. Hank then helped Jack to his feet, and his shop soon met the same fate as Jack's house.
Hank considered himself lucky to have survived, and continued to sell fishing supplies that he had obtained from the wreckage. His shop was rebuilt by Foreman George, his crew of builders, and a bunch of adventurers as part of the Lumbridge Rebuildathon.
Stock
As of an update on 26 June 2017, this shop will restock at 00:00 UTC, in addition to its normal time based restocking.
Item
Number
in stock
Price
sold at
Price
bought at
GE
price
GE resale
value
Small fishing net (Free)
1
0 coins
0
309
309
Crayfish cage (Free)
1
0 coins
0
283
283
Small fishing net
5
40 coins
12
309
1,345
Fishing rod
10
5 coins
3
523
5,180
Fly fishing rod
10
5 coins
3
116
1,110
Crayfish cage
10
20 coins
6
283
2,630
Fishing bait
1,000
3 coins
1
5
2,000
Feather
1,000
6 coins
3
13
7,000
Raw shrimps
0
6 coins
2
526
0
Raw sardine
0
10 coins
3
614
0
Raw herring
0
16 coins
5
675
0
Raw anchovies
0
16 coins
5
640
0
Raw trout
0
20 coins
6
382
0
Raw pike
0
25 coins
8
636
0
Raw salmon
0
92 coins
30
508
0
Raw crayfish
0
5 coins
1
406
0
Feather pack
5
15,000 coins
N/A
26,000
55,000
Trivia
A week after the Rebuildathon had ended and the shop had been rebuilt, it reverted to its ruined state due to a bug, although Hank retained his post-repair dialogue. This was fixed with the next update, but the release of Up to Snow Good also returned some rubble to the shop's interior, making the shop inaccessible due to the debris blocking the way to Hank. Additionally, a second Hank had appeared next to the original one.
Asgarnia

Burthorpe
Dwarven Mine
Entrana
 Frincos's Fabulous Herb Store
Falador
Port Sarim
Rimmington
 Rimmington General Store
 Brian's Archery Supplies
 Rommik's Crafty Supplies
Taverley
Other areas
Feldip Hills

Gu'Tanoth
 Dal's General Ogre Supplies
 Grud's Herblore Stall
Jiggig
Oo'glog
 Gift Shop
 Fresh Meat
Fremennik Province

Etceteria
 Etceteria Fish
 Island Greengrocer
Jatizso
Lighthouse
 The Lighthouse Store
Lunar Isle
 Moon Clan General Store
 Moon Clan Fine Clothes
Miscellania
Neitiznot
 Neitiznot Supplies
Rellekka
Guilds

Champions' Guild
Cooks' Guild
 Pie Shop
Fishing Guild
 Fishing Guild Shop
Heroes' Guild
Legends' Guild
Ranging Guild
Thieves' Guild
 Dodgy Derek's Dirty Deals
Warriors' Guild
 Warriors' Guild Armoury
 Warriors' Guild Food Shop
 Warriors' Guild Potion Shop
Wizards' Guild
 Magic Guild Store - Mystic Robes
 Magic Guild Store - Runes and Staves
Kandarin

Catherby
East Ardougne
King Lathas's training ground
Piscatoris Fishing Colony
 Arnold's Eclectic Supplies
Port Khazard
 Khazard General Store
Tree Gnome Stronghold
Tree Gnome Village
 Bolkoy's Village Shop
West Ardougne
 West Ardougne General Store
Seers' Village
Witchaven
 Lovecraft's Tackle
Yanille
 Aleck's Hunter Emporium
 Frenita's Cookery Shop
 Pet Shop
Other locations
Karamja

Brimhaven
 Davon's Amulet Store
 The Shrimp and Parrot
Herblore Habitat
Musa Point
 Karamja General Store
 Karamja Wines, Spirits, and Beers
Shilo Village
 Obli's General Store
 Fernahei's Fishing Hut
Tai Bwo Wannai
TzHaar City
 TzHaar-Hur-Lek's Ore and Gem Store
 TzHaar-Hur-Tel's Equipment Store
 TzHaar-Mej-Roh's Rune Store
Kharidian Desert

Al Kharid
Bandit Camp
 Bandit Bargains
 The Big Heist Lodge
Bedabin Camp
Duel Arena
Menaphos
Monkey colony
 General Store
 Gem Store
Nardah
Pollnivneach
 Pollnivneach General Store
 The Asp & Snake Bar
Sophanem
Other areas
Morytania

Burgh de Rott
 Aurel's Supplies
Canifis
Darkmeyer
Meiyerditch
Mort Myre Swamp
 Wishing well
Mort'ton
 Razmire General Store
 Razmire Builders' Merchants
Port Phasmatys
 Port Phasmatys General Store
 Alice's Farming Shop
Troll Country and Keldagrim

East Keldagrim
Troll Stronghold
West Keldagrim
Locations
NPCs
Materials
Rewards
Related
Community content is available under
CC-BY-SA
unless otherwise noted.