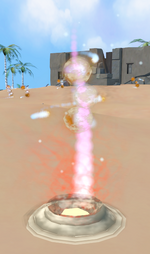 A luminous wisp is a tier 11 wisp harvested in the Divination skill. Upon being harvested, it will transform into a luminous spring, from which luminous memories and luminous energy may be gathered.
Each harvest of a luminous wisp yields 11 divination experience, 22 if an Enriched luminous memory is harvested.
An effective way of surviving in the desert that does not use inventory space is by activating the Enhanced Excalibur healing special attack, or tome of frost which greatly reduces damage taken. You can also use an Enchanted water tiara, but it costs water runes to use. The use of a Constitution cape and Regen bracelet is also sufficient to survive.
Getting there