GTA: The Criminal Enterprises - The Loop
Play Sound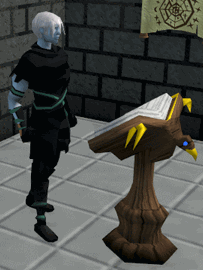 Magic tablets are magic spells that are sealed into clay, which allows the spell to be used later. Clicking on the magic tablet in the inventory activates the spell.
Magic tablets are generally created by using soft clay and runes on a lectern in a player-owned house. The tradeable tablets provide players with a method to gain the benefit of a spell before reaching the required Magic level to cast it. However, for base spells which require quests, the tablets also require the same quests. For example, Plague City is required to use the Ardougne teleport tablet.
Tablets are useful in situations where inventory space is critical and/or where inventory-based activation is useful. Players on a different spellbook (Lunar magic or Ancient Magicks) may find it useful to have access to a subset of spells from the Standard spellbook.
Teleportation
Standard
These tablets mostly contain spells from the Standard Spellbook. Exceptions include the Heart tablets, which require Tales of the God Wars to use, and the Dagannoth Kings tablet, which are exclusively dropped by the kings and cannot be crafted.
Tablet
Teleport location
Lectern
Price
Varrock teleport
Varrock
Oak/eagle

2,787

Lumbridge teleport
Lumbridge
Eagle

4,044

Falador teleport
Falador

2,386

Camelot teleport
Camelot
Teak eagle

3,266

Ardougne teleport
East Ardougne

4,848

Watchtower teleport
Watchtower
Mahogany eagle

4,566

Teleport to house
Player-owned house

3,293

God wars teleport
God Wars Dungeon

3,645

The Heart teleport
Heart of Gielinor

4,205

Mazcab teleport
Mazcab

6,287

Dagannoth Kings teleport
Waterbirth Island Dungeon
N/A

9,582
'Chipped'
The ability to create 'Chipped' teleport tablets is a reward after completion of Evil Dave's Big Day Out.
Ancient Magicks
The ability to create Ancient teleport tablets may be purchased from the Bounty Hunter & Deathmatch Reward Shop for 300 Deathmatch points. These require Desert Treasure to use.
Player-owned house
Tablets that teleport players outside player-owned houses can be created after completion of Love Story. Using a chisel on a standard Teleport to house tablet creates a Teleport to house (chipped), which can then be modified to take the player to any POH portal.
The Arc
Tablets that teleport players to islands in the Arc may be purchased at the Waiko Reward Shop for 5 chimes each. They cannot be made by players, unlike other teleport tablets.
Menaphos
Players can unlock the ability to create tablets that teleport to different locations around Menaphos (and the Sophanem Slayer Dungeon). The district teleports require rank 4 reputation in their respective district whereas the Sophanem Slayer Dungeon and Shifting Tombs teleports require rank 4 reputation in any district. They are all made with one soft clay and two law runes at a lectern.
Runecrafting
Runecrafting tablets are used to teleport to their respective altars, or the Runecrafting Guild. They are rewards from The Great Orb Project.
Enchantment
Teleportation
Enchantment