Mahogany logs are logs obtained with a Woodcutting level of 50 from mahogany trees, and they yield 125 experience when cut. Players can burn these logs with the Firemaking skill of level 50, gaining 157.5 firemaking experience for lighting, and 170.3 firemaking experience for adding to a bonfire. They can also be made into a Mahogany stock with Fletching.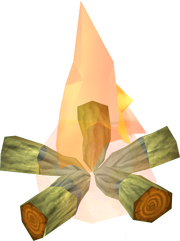 Mahogany logs are often made into mahogany planks, either at the sawmill for 1500 coins, using the level 86 lunar spells Plank Make for 1050 coins, or even using a Portable sawmill for 1350 coins. As Mahogany planks, they can be used to make many high level items in construction and yield 140 experience points in construction per plank. Some examples are armchairs, treasure chests, oubliette ladders, levers, and so on. They are also used in conjunction with gold leaf to make items such as gilded benches, opulent tables, gilded 4-posters, and so on.
With the 23 September 2009 woodcutting update, mahogany and teak trees occasionally give special logs which you can sell to the Varrock lumberyard for 3900 coins or exchange two of them for a free cutting of all the mahogany and teak logs in your inventory. See Special mahogany log for more information.
Locations
Disassembly
Making planks
There are several ways to create mahogany planks, one of the fastest methods is outlined below.
Items
Mahogany logs (noted)
Gold coins (equal to 1500x the number of logs; make sure to pay your servant from your bank, or bring extra gp)
Requirements
Method
Tell your servant to "un-cert" (which means to "un-note") as many logs as they can (26 if using the Demon butler).
When they come back with the logs, the option to "Send logs to Sawmill" should be clicked.
The first time your servant comes back with planks, accept them. Your inventory should now be full.
Right click your servant and choose "Fetch-from-bank" and then choose the top option (which is to repeat the last task).
The second time your servant comes back, you won't have space for items anymore and your servant will hold onto them.
Repeat step 4-5 until you are out of logs.
Profit
Assuming you have done Love Story and are using a Demon butler, these are the costs:
| Obtain method | Log cost | Sawmill cost | Servant cost | Total cost | Profit |
| --- | --- | --- | --- | --- | --- |
| Woodcutting | 0 | 1,500 | 72 | 1,572 | -251 |
| Grand Exchange | 300 | 1,500 | 72 | 1,872 | -551 |
Around 4836 Mahogany logs may be converted into planks per hour using this method (186 loads), yielding a profit or loss of -2,664,636 coins per hour. If you have a Mind-controlled monkey butler, the profit/loss becomes -2,316,444 coins per hour, due to the lack of butler payments.
Drop sources
This list was created dynamically. For help, see the FAQ.
To force an update of this list, click here.
For an exhaustive list of all known sources for this item, see here.
Regular
Cursed
 Willow
 Magic
Pyre
Coloured
Dungeoneering branches
Miscellaneous
Gielinor Games (discontinued)
Community content is available under
CC-BY-SA
unless otherwise noted.