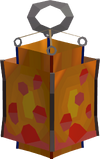 The medium lava lantern is an item that was obtainable via Treasure Hunter as part of the Lava Lanterns promotions in May, July, and December of 2016, as well as being available from 2 to 6 February 2017. It was also a gift on the 2016 Christmas Advent Calendar.
It can be released for both regular experience and bonus experience at the same time. It can be used on any skill that a medium XP lamp can be used on and gives 200% of the experience that the lamp would give, split equally between experience and bonus experience: you will gain 100% of that experience as regular experience and 100% as bonus experience.
Release history
Drop sources
This list was created dynamically. For help, see the FAQ.
To force an update of this list, click here.
For an exhaustive list of all known sources for this item, see here.
Trivia
Community content is available under
CC-BY-SA
unless otherwise noted.