Walkthrough
Start point

The outpost north-west of West Ardougne.
Member requirement
Members only
Official difficulty
Intermediate
Official length
Medium
Requirements
Skill requirements are not boostable unless marked with a [B] for boostable.

Quests:

Items required
Items from the tool belt are not listed unless they do not work or are not automatically added.

(Check your steel key-ring, if you possess one, for the enchanted key. Players will be given an option to bank the rest of their items by Jorral during the quest)

Optional: Traveller's necklace to get to the outpost at the start of the quest. This can then be banked along with everything else (except the Enchanted key) once you speak to Jorral.

Enemies to defeat
Starting out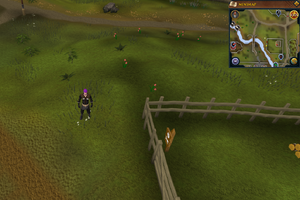 Go to the Outpost.
Speak to Jorral. Accept his offer to bank your items.
Run east to the sheep pen across the river, or run north-west from Ardougne lodestone.
Right-click rub the key in the location shown right (stand on the flowers west of the sheep pen west of the lodestone).
The past
Helping Jack
While in Past A, talk to Jack.
Goto Past B, talk to Jack.
Rub the key again, this time choose "Past - B".
Speak to Jack
Answer with the following:
Talk to Sarah in the back garden still in Past B.
Goto Past A, take a spade and 6 Plant pots.
Use the sapling pots on the correct tree spots using this image.
Goto Past B, talk to Sarah in. Talk to her a second time.
Talk to Jack.
Healing Baby Sarah
A Map for Laura
Laura's brooch
Goto Past A, talk to Laura.
Search the northern bedside table to find a brooch.
Use the brooch on the soil mound west of the shed Laura is building.
Goto Past B, take the Spade from the shed.
Dig up the brooch.
Talk to Laura.
Finishing up
Return to the present.
Talk to Jorral.
Quest complete!
Rewards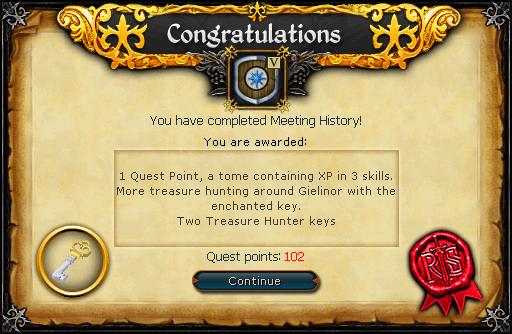 Music unlocked
Community content is available under
CC-BY-SA
unless otherwise noted.