The Meilyr potion is a potion created during the quest Plague's End. It is created by using a ground red Isafdar mushroom and a ground blue Isafdar mushroom with a super defence potion. Both mushrooms can be found throughout Isafdar. There are red mushrooms outside the Lletya gate and blue mushrooms by the lodestone, or the Isafdar hunter area has them both.
When consumed at Daemonheim, a portal will appear inside the main hall of the castle that will take the player to the hiding place of Lady Meilyr.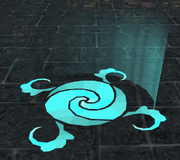 This potion can only be made during the quest, as the ingredients become unobtainable afterwards.
Part 9 of the Elf quest series
NPCs
Enemies
Items
Rewards
Locations
Music
Miscellaneous
Unfinished potions
Combat potions
Recovery potions
Cures and antipoisons
Skill potions
Weapon poisons
Quests
Minigames
Miscellaneous
Community content is available under
CC-BY-SA
unless otherwise noted.