Meiyerditch mine is a mine located within the city of Meiyerditch. It is the only mine that has daeyalt rocks, which contain daeyalt ore inside them. It can be reached through an unmarked entrance in the north-east corner of Meiyerditch. At some point in time, the Stone of Jas was here, as it is the source of daeyalt ore.[1]
Before The Branches of Darkmeyer is complete, players are sent here if they refuse to give a blood tithe to a Vyrewatch in Meiyerditch. Once in the mine, a player must mine 15 ores before the Juvinate guards allow the player to leave. When players leave the mine, they appear in the north-west corner of Meiyerditch. The mine is filled with human slaves who cannot mine enough ore to leave, and therefore are trapped there indefinitely.
After River of Blood, there are no more Juvinate guards in the mine. The miners are also now there voluntary, and can be spoken to to leave. Castle Drakan can be accessed through use of a mine cart in the south-west corner of the mine.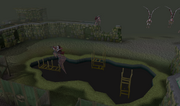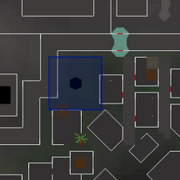 References
Part 7 of the Myreque quest series
NPCs
Enemies
Items
Rewards
Locations
Meiyerditch mine
Music
Miscellaneous
Asgarnia
Fremennik Province
Kandarin
Karamja
Kharidian Desert
Misthalin
Wilderness
Dwarven Mines
Other
Meiyerditch mine
Asgarnia
Kandarin
Karamja
Kharidian Desert
Misthalin
Morytania
Meiyerditch mine
Fremennik Province
Feldip Hills
Wilderness
Troll Country & The North
Keldagrim
Tirannwn & Galarpos
Elite dungeons
Others
Community content is available under
CC-BY-SA
unless otherwise noted.