Raise a Floppa - The Loop
Play Sound
Membership subscription is the process of a RuneScape player paying the fee to become a member and access the pay-to-play version of the game. When players subscribe, they receive members credit that allows them to access the pay-to-play version of RuneScape. Subscriptions through different payment methods may have varying lengths, although there is a minimum length of fourteen days.
Jagex is affiliated with several payment providers which each provide different subscription payment methods and prices. Different payment methods require different information to be given during a secure payment process. Some subscriptions continue automatically unless the player cancels it, so that they can enjoy uninterrupted membership. Other payment methods require the player to renew manually when it expires if they wish to enjoy members' benefits.
Promotions
Lifetime subscription
Lifetime subscription was once awarded to a player for revealing the mechanism behind the Partyhat duplication glitch, while most who abused it were then permanently banned afterwards.[1] Since then, lifetime subscriptions can often be won as part of a competition.
Free week of membership
Starting 5 July 2010, free players that had never been members before could take advantage of a special promotion whereby they could get up to 7 days of membership at no cost. Players were required to use a credit card to sign up. Any players who did not cancel their membership within the 7 days was considered to have automatically subscribed for one month of membership and the deposited money was used towards the membership fee. The promotion was removed as it was exploited by players engaging in real-world trading.
Penny membership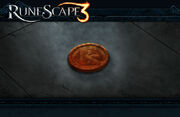 Penny membership was a partnership promotion that ran in late 2013 and early 2014 wherein players were offered 1 month of membership for 1 penny ($0.01, £0.01, etc) if the membership was purchased with a PayPal account. The offer had a limited number of users and was on a first come, first served basis. It was limited to one month of penny membership per account.
Open weekend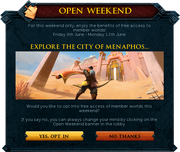 From 9 June 2017 until 12 June 2017, free-to-play players were temporarily allowed to access members' worlds and content.[2] It was announced on the same day Menaphos was released, and was a promotion that was designed to encourage players to explore the city.
If the offer was turned down, then later accepted, it did not work.
Twitch Prime bundle
From 26th July 2018 to 19 September 2018, Jagex partnered with Twitch allowing RuneScape players to link their Twitch Prime account to their RuneScape account. Once players linked their accounts, they were given a month of membership for free, in addition to:
Players could only do this once for each RuneScape account, although if they had multiple Twitch Prime subscriptions, they were able to link a subscription to an account.
Prices
AP refers to average price per month. These are the prices as they are currently, not the prices for players who have grandfathered rates.
Membership benefits[3]
Package
USD
GBP
EUR
MYR
Price
AP
Price
AP
Price
AP
Price
AP
1 month
$10.99
£6.99
€9.49
MYR33.99
3 months
$29.99
$8.67
£16.49
£5.50
€25.99
€7.83
MYR91.99
MYR30.67
12 months
$99.99
$7.50
£53.99
£4.50
€78.99
€6.59
MYR314.99
MYR26.25
Member credit
Member credit is obtained by paying for a subscription. Member credit is essentially the number of days remaining in a subscription. When member credit expires, the account will revert to free-to-play, and all extra features available only in the pay-to-play version of RuneScape are inaccessible again. Remaining member credit is displayed when members log in. Membership cannot be frozen unless bank actions are taken, and a day of member credit is used each day until it runs out.
Starting a subscription
Players can subscribe for membership by clicking the 'Start a new subscription' option in the 'Membership' section of the sidebar on the RuneScape website. The site will then attempt to automatically detect the player's home country. If it can't detect the country of a player, it will bring them to a page where they will be prompted to select their home country. After a country has been determined, a page listing a variety of payment methods available in that country will be displayed. Players can then select a payment method of their choice from those displayed, and will be prompted for information (different depending on selected payment method) in the following pages during the secure payment process.
Cancelling a subscription
Subscriptions can be cancelled by selecting the 'Cancel an existing subscription' option in the 'Membership' section of the sidebar on the RuneScape website. Players will be offered various cancellation options:
Players may log into the site by entering their RuneScape username and password. After logging in, players will be taken to a cancellation page where they may choose from a list of reasons for cancellation and go to the cancellation confirmation page or they may choose not to unsubscribe. The cancellation confirmation page requires a final confirmation of the cancellation of the account's subscription and also provides a final option to choose not to unsubscribe.
Players who have forgotten their username and/or password may cancel their subscription by providing their credit card number and expiry date as well as the username and email address provided when the subscription was taken out. Players are given the option to "Leave unchanged" or "Cancel subscription" for each account currently linked to the card. Furthermore, any previous accounts tied to the card which were cancelled can still be viewed. After submitting the information, players are taken to a final cancellation confirmation page where the credit card number and expiry date entered are displayed and there is an option to confirm cancellation.
Players who have subscriptions using alternate payment methods through the payment provider PayByCash can cancel their subscriptions on the PayByCash website.
When a subscription is cancelled, players will continue to have access to members only worlds and features until their member credit expires. When a player's membership expires, they will be teleported to Lumbridge if in a members area upon logout, to prevent them being stuck in a members-only area. In other words, players will not be kicked out immediately. Players that have cancelled their account will be subject to the limits of Free-to-Play players, including a restricted bank allotment of 103 items for F2P accessible items. If you have more than 103 items, not including Members Objects in your bank, you cannot put any more items into the bank until you have reduced your bank size. If you have one kind of item already in bank, you will also be able to deposit more of it (example: more maple longbows can be deposited into bank as long as one bow is already in bank, regardless of bank space) It is advisable to use withdraw all-but-one order to access bank safely. You can now sell members items and objects on a Free-to-play world. This does not include Barrows equipment (You can only sell Barrows equipment if it has degraded completely)
Note: It was once possible to cast the high alchemy spell on members' items such as yew longbows however Jagex changed this after players would 'stock up' on nature runes and yew longbows and spend weeks/months training their magic meaning Jagex lost membership revenue.
None of the membership functions on the RuneScape website such as the adventurer's log worked after the credit expired, however.
Extending a subscription
Several payment methods are not ongoing, and need to be extended in order for payment to be continued. In order to prevent member credit from expiring, players must extend subscription. RuneScape subscriptions may be extended by clicking on the 'Extend an existing subscription' option in the 'Membership' section of the sidebar on the RuneScape website. This will bring players to either the normal page displaying payment methods for their detected country or the country select page if the country is undetectable. From this page, players may extend their subscriptions by choosing a payment method and entering their payment information as normal in the secure payment process.
Payment methods and subscription prices
There are various payment methods for RuneScape. Several payment providers who have agreements with Jagex process the transactions, and compete to offer better prices and availability. Sections below contain information from Jagex on all available payment methods.
Credit card payment
The cheapest subscription payment method is via credit card. Credit card payment is available to customers worldwide (with the exception of a few countries, like Lebanon, for example). When a subscription is paid via credit card, each month the payment is taken from the credit card account and a month of subscription is credited to the player's account. This is ongoing, and payments will continue to be taken from the credit card account a few days before the player's membership credit runs out until the subscription is canceled or if your credit card expires. You must resubscribe if you renew your credit card. Credit card payments are processed immediately. Payments from the credit cards Visa, Visa Delta, and Mastercard are accepted from all customers regardless of location. The debit cards JCB, Visa Electron, Visa Debit Switch/Maestro, and Solo are also accepted from customers in the United Kingdom.
PaybyPhone
This method is currently unavailable.
The PaybyPhone payment method is available from payment provider Surfpin to players in the United States, United Kingdom, Canada, Australia, New Zealand, Germany, Ireland, and more. Players wishing to subscribe via PayByPhone call Surfpin's PayByPhone service and receive a PIN redeemable (after a processing period of 15 minutes) for one month of member credit on the RuneScape website. Subscription is paid for by the cost of the call, which is added to the caller's phone bill and is dependent on the country the caller is calling from. Players who subscribe via PayByPhone can unsubscribe simply by not calling again to resubscribe. No longer subscription lengths are currently available through PayByPhone. Costs for PayByPhone payment method are £5.00 GBP, $7.99 USD, 6.95EUR. Further information is available during the secure subscription payment process (instructions for beginning above). This method of payment is not currently available as Surfpin is no longer providing this service.
PayBySMS
The PayBySMS payment method is available to players in the United States,[4] Canada,[4][5] France,[4] Germany,[4] the Netherlands,[4] Switzerland,[4] the United Kingdom,[4] Australia,[4] Belgium,[4] Singapore,[6] Estonia,[7]and Lithuania.[7]
Players subscribing via PayBySMS send a text message from their cellphone to Surfpin and receive a message in reply with a PIN redeemable (after a processing period of 15 minutes) for one month of member credit on the RuneScape website, very similar to the PayByPhone payment method. PayBySMS is generally the most expensive payment method, costing £6.00 GBP, $11.96 USD, 6.90 EUR, $16.60 AUD or $11.50 CAD plus any charge made by the subscriber's mobile phone operator. The subscriber's network provider may also charge for the text message sent. The cost of the message is added to the subscriber's telephone bill if the subscriber has a contract or removed from the credit on the subscriber's phone.
PayBySMS currently supports the following telephone networks:
Networks in the United Kingdom:

3 (Hutchison 3G UK Limited)
O2 (O2 (UK) Limited)
Orange
T Mobile
Virgin Mobile (discontinued - 2016)
Vodafone

Networks in the United States:

Verizon Wireless
T-Mobile
U.S. Cellular
Sprint

Networks in Canada:

Bell
MTS
Sasktel
Telus
Virgin Mobile
Players who subscribe via PayBySMS can unsubscribe simply by not sending another text message to resubscribe. No longer subscription lengths are currently available through PayBySMS. Further information is available during the secure subscription payment process (instructions for beginning above).
PayPal
The provider PayPal offers players a variety of credit card payment options, being you have an existing account with PayPal. PayPal subscriptions are available globally. Price via PayPal payment method are 1 month from GBP£4.50 / USD$7.50 / EUR6.50 2 months from GBP£7.99 / USD$12.99 / EUR10.99 3 months from GBP£10.99/ USD$17.99 / EUR15.99 6 months from GBP£20.99 / USD$34.99 / EUR29.99 12 months from GBP£39.99 / USD$66.99 / EUR55.99. There is a processing time of less than 1 minute.
By taking advantage of the "Secure Cards" feature provided by the Paypal Plug-in, one can generate a multiple-use virtual Mastercard linked to their Paypal account and use it with the credit card payment option, thus paying the cheaper credit card membership fees at $6/month rather than $7.50/month. This however is only available to those who have the card before the plug-in was removed.
GiroPay
Offered to German players only, GiroPay is a real-time bank transfer subscription process. When you complete your payment, the cash will be removed from your bank account and paid directly to Jagex. All payments are "One-off" meaning monthly renewal of membership is required, unless you purchase a package which gives you 1,2,3,6, or 12 months at a lump charge. The cost for the GiroPay payment method is 1 month from 6.45€ 2 month from 12.25€ 3 month from 17.40€ 6 month from 32.25€ 12 month from 58.05€
PayByCash
The provider PayByCash also provides a wide variety of payment methods. PayByCash offers different costs for different lengths of payment, with discounts available for longer payments. Considerably due to the vast amount of options available, please view the link below for a detailed explanation of possible payments options.
One payment option is the Ultimate Game Card. It is a prepaid card sold in the U.S. in $10 or $20 amounts, which can be redeemed on the paybycash site.
Ultimate Game Cards are sold at the following stores in the U.S.:
They have been discounted as of 31 August 2015.
Walgreens
7-Eleven
Walmart
CVS
Target
Blockbuster
Pre-pay cards
Pre-pay cards are sold at Target, 7-Eleven[8], Wal Mart, GameStop, and Rite-Aid stores in the United States, and are available in Britain at Game, Gamestation, Sainsbury's and Boots. There are 3 types of cards:
30-day subscription (GBP £4.99) (USD $7.95)
90-day subscription (GBP £12.99) (USD $22.50)
100-day subscription (GBP £??.??) (USD $25.00)
Paysafe-card
In United Kingdom, Mexico, Europe, and more, players can pay with a PaySafe-card.
PaySafe-card
Prices correct 16 October 2008
MONTHS
GBP
EUR
Mex $
1
£3.99
€7.50
$91.3555
2
£6.99
€15.00
$159.941
3
£9.99
€21.95
$228.586
6
£19.99
€28.50
$458.389
12
£36.99
€87.328
$848.565
RewardsPay
RewardsPay allows one to use a credit card and airline rewards to purchase membership. The service is partnered with Discover Cashback Bonus and United MileagePlus.
Paying for membership through Bonds
With the introduction of Bonds, free players can now obtain membership via purchasing and redeeming bonds, thereby effectively allowing players to pay for membership through their in-game money. Bonds can be purchased from players or via the grand exchange. Note that only one bond per offer can be bought at the grand exchange. However, once a bond is obtained, another can be bought while making a different offer. Bonds do not stack in the bank, and require individual bank spaces. Redeeming a bond gives a player 14 days of membership. This method is highly recommended for long time or high-level free players to explore the full game and obtain membership without having to pay real life money.
Price increases
The price of membership for new subscribers has increased multiple times since RuneScape launched. Members that have not let their membership lapse by 2 weeks since a price increase will be grandfathered in and will only pay the rates that they were paying previously.
Rates are for 1 month membership

| Time period | Rate | Newspost |
| --- | --- | --- |
| Prior to 18 August 2008 | £3.20 GBP, $5.00 USD, 4.60EUR | N/A |
| 18 August 2008 - 26 January 2012 | £3.50 GBP, $5.95 USD, 5.95EUR | Price Change - Starting Today |
| 27 January 2012 - 28 February 2015 | £4.95 GBP, $7.95 USD, 6.95EUR | New Members' Pricing |
| 1 March 2015 - 3 June 2018 | £5.99 GBP, $9.49 USD, 8.49EUR | Membership Price Changes - 1st March 2015 |
| 4 June 2018 — | £6.99 GBP, $10.99 USD, 9.49EUR | Price Change & Summer Content |
Price increases are often met by controversy from players of the game who may not feel that the money they are paying is worth the content that the game provides.
Premium membership packages
Premier Club is an annual promotion held from December until January since December 2012. It comes in three types: Bronze, Silver and Gold, offering three, six and twelve months of membership respectively, along with various extras such as promotional items, cosmetic overrides and/or loyalty points/RuneCoins.
References