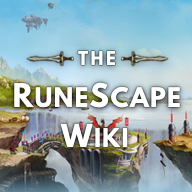 Hello, Oster gate, and welcome to the RuneScape Wiki!
Thank you for taking an interest in our wiki. If you have any trouble or need help, feel free to ask questions on my talk page or any other editor's talk page. Also, you could look at a help page or shout out on the local forums. We hope you like it here and decide to stay!
Here are a few pages to help out new editors such as yourself:
Please sign your name on talk pages by using four tildes (~~~~) or use the "sign" button (

) above the edit box. This will automatically produce your name and the date. Signing your comments is important, as it lets other editors know who has posted which comments.
Again, welcome! —

Evil1888 Talk A's L

20:47, October 6, 2010 (UTC)
Ring of Charos Pics
Edit
Hey Oster gate! Just a quick notice: because those pictures can be explained easily through text, they're unnecessary, so I've tagged them for deletion. ɳex undique 00:48, May 3, 2011 (UTC)
Personal Image
Edit

Hello. An image that you have uploaded appears to be personal. Personal files should not be hosted on the RuneScape Wiki (see RS:NOT#HOST). If you want to add a picture of your RuneScape character, or any other media that doesn't fit in an article, you may upload it on an image hosting site, such as Photobucket, ImageShack, or Imgur. If you need more details feel free to ask any question you have on my talk page. User:Urbancowgurl777/Signature 19:24, October 16, 2011 (UTC)
Community content is available under
CC-BY-SA
unless otherwise noted.