A Mithril grapple is used to grapple with Agility onto objects such as Strong trees and Rocks, or even scale walls. It is wielded in the arrows slot and used with a mithril crossbow (also a Dorgeshuun crossbow or any metal crossbow higher than mithril).
Sometimes, the grapple may break (though this is rare), so it is a good idea to have more than one in your inventory (only one may be wielded at a time). When a grapple breaks, the following message appears in the player's chat interface: "After untying the rope, you find that your grapple is broken and useless".
Producing a grapple
Level 59 smithing is required to smith a mithril grapple tip from mithril bars. Level 59 Fletching is required to attach the tips to mithril bolts. Finally a rope is used on the unfinished mith grapple to make a complete mithril grapple, usable with grapple shortcuts. Grapples are tradeable at every stage of construction.
Additionally, players with 70 Ranged may look for a grapple in Armadyl's hideout in the God Wars Dungeon. If there are no grapples in the inventory, the crate within the hideout will contain a grapple.
Required items
Steps
Grapple locations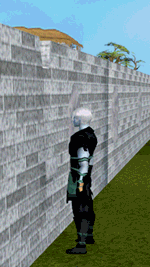 Community content is available under
CC-BY-SA
unless otherwise noted.