The mithril minotaur is a level 78 combat Summoning familiar. It is summoned by using a Mithril minotaur pouch requiring 66 Summoning, and will give 6.6 summoning experience when you do so.
Mithril minotaur pouch
A mithril minotaur is made by using a Summoning pouch on a Summoning obelisk with 152 spirit shards, a Blue charm and a Mithril bar in the inventory, and 66 Summoning. Making the pouch earns 580.8 experience points. Using the pouch to summon a Mithril minotaur gains 6.6 experience points, and costs 90 Summoning points.
Mithril bull rush scroll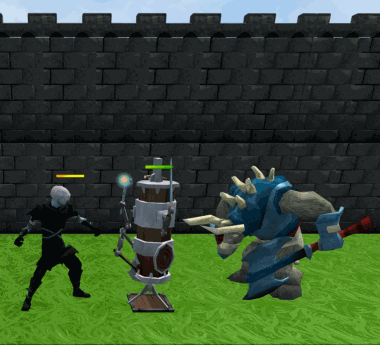 A Mithril bull rush scroll allows use of the special move of the Mithril minotaur, Mithril bull rush. It is created by using a Mithril minotaur pouch on a Summoning obelisk. This creates 10 scrolls and grants 6.6 Summoning experience.
Mithril Bull Rush
Mithril Bull Rush is the special move of the mithril minotaur. It consists of a ranged attack that inflicts up to 864 life points, with a chance to stun if it hits.
Dialogue
Trivia
If you are wearing Guthan's helm, your minotaur will threaten you by saying, "Listen, no-horns, you have two choices: take off the horns yourself or I'll headbutt you until they fall off".
Regular familiars

Gold charm
Green charm
Crimson charm
Blue charm
Elder charm
Clay familiar
Other
 Meerkats
 Ghast
 Chocatrice
Community content is available under
CC-BY-SA
unless otherwise noted.