Walkthrough
| | |
| --- | --- |
| Start point | The Sinclair Mansion, situated north of Camelot and north-east of Seers' Village. |
| Member requirement | Members only |
| Official difficulty | Novice |
| Official length | Medium |
| Requirements | Skill requirements are not boostable unless marked with a [B] for boostable. |
| Items required | Items from the tool belt are not listed unless they do not work or are not automatically added. |
| Enemies to defeat | |
Getting started
House of Crime
Inside the mansion, go to the crime scene in the room on the east side with the puddle of blood.
Take the Pungent pot and Criminal's dagger and search the window to find a Criminal's thread.

Note: If the dagger and pot do not appear, log out and then log back in and they should be there.

Go in each of the suspects' rooms and look in the barrels to find:
The Evidence
Go to the gardener's shed and take seven flypapers from the sack.
Use the flour on the dagger and use flypaper to lift the fingerprint.
Repeat with the silver objects.
Compare each fingerprint by using each person's print with the unknown print.
Once a match is found, the silver items may be dropped aside from the matching one.
Go to the mansion's gate and talk to Gossip. Ask him who he thought did it.
Go to the pub in Seers' Village and talk to the Poison Salesman. Ask who he sold poison to at the house.
A Criminal Revealed
Go to the person with the matching fingerprint and ask what he/she used the poison for then search for the object:
Finishing Up
Find the smashed window and investigate, you will be given a thread.
Return to the guard and give him the fingerprints, tell him about the poison, and show him the thread.
Quest complete!
Rewards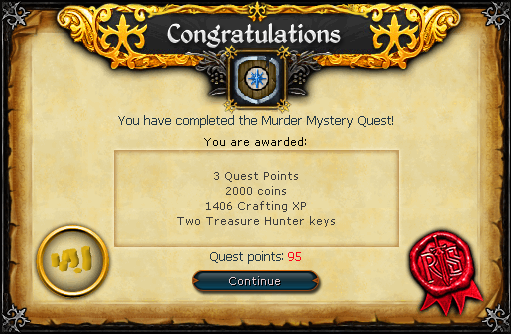 Music unlocked
NPCs
Items
Locations
Music
Miscellaneous
Quick guide • Transcript
Community content is available under
CC-BY-SA
unless otherwise noted.