The Music Player is the screen on the interface where players can choose the background music they hear. Many different tracks are unlocked as they play the game, and the player has a counter that keeps track of how many songs the player has unlocked. Players will be informed via red text in the chat box whenever they unlock a new track. When a new song is unlocked the audioplayer will automatically switch to the new song. Currently since 3 September 2018 there are 1243 music tracks on the music player.
Players can click on the button at the top of the screen. If it is on, the track played on that moment will automatically repeat itself. Players can also click on green titles to choose which track to listen to. Titles in red have not been unlocked, and thus cannot be played.
With the HD graphics update, the Music Player in fullscreen High Detail mode is now translucent. It appears at the bottom right corner of the screen.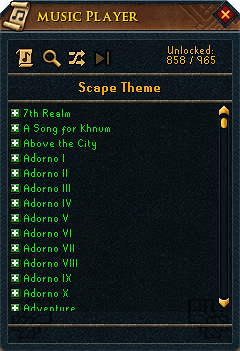 Updates
Historical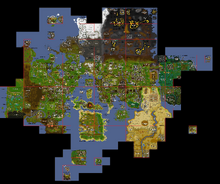 Before the music system update on 5 February 2008, each area had a certain music track that unlocked and played there. Some music tracks were used in multiple areas. When music was being added for the release of Runescape 2, the music areas were squares that consist of 64 by 64 tiles.
See also
Trivia
A glitch used to cause any music track to pause every few seconds while other sounds continued playing.
A current glitch causes playlist songs to stop playing once all have been played once, and default songs to stop playing after they finish; until a player selects a new music track or, moves to a different area where a different song would usually play.
When it was first released, the music player was only available in the high-detail mode, the interface text was 'To reduce memory requirements music & sounds are only available in the high-detail. If you wish to hear these please switch versions, but in mind things will run more slowly as a result.'
Community content is available under
CC-BY-SA
unless otherwise noted.