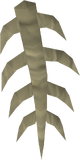 The muspah spine is a common drop from Bladed muspah, Throwing muspah, Force muspah, and Nightmare on Freneskae.
It cannot be noted using magic notepaper however it can transported by signs of porter to your bank.
It is used to create a nightmare muspah familiar pouch at 81 Summoning, by combining the spine with a Summoning pouch, 150 elder energy and an elder charm at a Summoning obelisk.
Assuming median Grand Exchange prices, making pouches from the spines is worth 30,339 coins.
Drop sources
This list was created dynamically. For help, see the FAQ.
To force an update of this list, click here.
For an exhaustive list of all known sources for this item, see here.
Disassembly
Community content is available under
CC-BY-SA
unless otherwise noted.