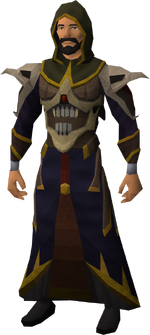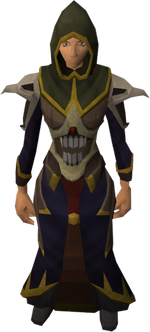 The Necromancer outfit is a set of magical robes that can be crafted using items obtained during the Shades of Mort'ton minigame. With 10 fine cloth, a necromancer kit and level 85 Crafting players can convert a single piece of the Dagon'hai set into a single piece of the necromancer set. The necromancer kit can only be found in a gold chest, which can only be opened with a gold key. Neither the kit nor the set are tradeable. Players need 3 necromancer kits and 30 pieces of fine cloth to convert the entire set.
The pieces of the Necromancer outfit look quite different from their Dagon'hai counterparts. The hat becomes a hood similar to Sil'as Dahcsnu's, only with a gold trim, while the robe top acquires skull features. The robe bottom changes its design to fit with the robe top.
These robes may be stored in a Magic wardrobe in a player owned house.
The Necromancer outfit does not count as Dagon'hai when in the Black Knights' Catacombs.
Set bonuses
The full set provides the same bonuses as the Dagon'hai robes, but with a +10 bonus to Prayer rather than the Dagon'hai's +4 bonus.

Item
Main-hand
Off-hand
Attributes
Style bonus
Style
Dmg
Acc
Style
Dmg
Acc
Hood
N/A
0
0
N/A
0
0
125
0
2
0
0
0
Robe top
N/A
 0
0
N/A
0
0
144
0
5
0
0
0
Robe bottom
N/A
0
0
N/A
0
0
138
0
3
0
0
0
Totals
N/A
0
0
N/A
0
0
407
0
10
0
0
0
References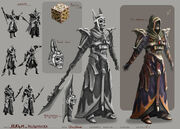 Community content is available under
CC-BY-SA
unless otherwise noted.