Raise a Floppa - The Loop
Play Sound
Nihil, properly called Zarytes, are a race of powerful beings that were created by the god Zaros through weaving the living essence of other races. There are four varieties of nihil, each created from a specific race and attuned to one of the four elements of the Ancient Magicks. They are fought as bosses on Freneskae during Fate of the Gods.
After the quest they can be unlocked as a Slayer assignment for 50 Slayer points. They drop the ingredients to create Summoning pouches for nihil familiars, which are some of the strongest combat familiars. After the quest, the nihils may be fought for their drops. They are aggressive unless the Shard of Zaros is equipped.
History
The nihil were created as part of Zaros' attempt to combat the infertility of the Ilujanka, also known as the Dragon Riders, by manipulating and weaving around their living essence. Zaros did not have enough power to manipulate their essence and restore their ability to procreate, so he returned to Freneskae to harvest energy from his creator, the elder god, Mah.
Once on Freneskae, Zaros reformed the essence of icyene, demons, aviansie and vampyres into the nihil, which he brought to life using Mah's energy; as an elder god's divinity was the only way to create life from nothingness. As he required Mah's energy to give life to the nihil, Zaros considered them and himself a failure, and he abandoned them on Freneskae.[1] What happened to the nihil after this is largely unknown.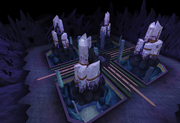 One of the nihil grew much quicker than the rest, which caught Zaros' attention. Zaros decided to give this nihil a fragment of his consciousness in order to prevent the remaining nihil from destroying her for being different. She learned quickly from Zaros and took the Infernal language name of Nex for herself.[2] Nex proved to be one of Zaros' most powerful and loyal servants.
Like Nex, the Fallen Nihil is also larger than the nihil presently found on Freneskae. However, for Nex's growth to have been notable to Zaros, it is unlikely that all of the original nihil were this large. The Fallen Nihil may have grown as Nex did, or his increased size may be a result of unknown events prior to his appearance in service of the Queen of Ashes at the Birth by Fire event.
Known nihil
Monsters
These nihil are found in the Pit (option 3 entering the World Gate tuned to Freneskae).
Familiars
Individuals
Miscellaneous
Trivia
References
NPCs
Enemies
Items
Rewards
Locations
Music
Miscellaneous