Oar!
Release date
11 July 2016 (Update)
Members
No
Slot
2H weapon
Equipment
Melee
Recolourable
No
This cosmetic will not display
in PvP-enabled areas.
[view] • [talk]

The Oar! is an override unlocked during the Port Sarim Invasion. It can be obtained as a common reward from supply caches. It will override any two-handed melee weapon.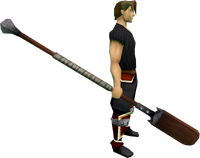 NPCs
Rewards
Boat to the Arc
Locations
Related
Community content is available under
CC-BY-SA
unless otherwise noted.