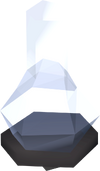 Oil lamp (empty) is an empty oil lamp which needs to be filled with lamp oil and then lit in order to be used as a light source in dark places. Empty oil lamps can be made using the Crafting skill at level 12 by glassblowing molten glass, or bought from Dorgesh-Kaan or from other players. The oil lamp must be filled with lamp oil to obtain a oil lamp (oil). This can then be lit using a tinderbox at level 12 Firemaking.
An oil lamp can be combined with an oil lantern frame (forged from iron) to make an oil lantern for 50 Crafting experience. Combining the lantern frame with the lamp does not require a furnace or anvil.
Store locations
This list was created dynamically. For help, see the FAQ.
To force an update of this list, click here.
| Seller | Location | Cost | Currency | Base stock | Members? |
| --- | --- | --- | --- | --- | --- |
| Miltog's Lamps | Dorgesh-Kaan | 25 | Coins | 0 | Yes |
Disassembly
Candles
Torches
Candle lanterns
Oil lamps
 Empty
 With oil
 Lit
Oil lanterns
Bullseye lanterns
Headwear
Community content is available under
CC-BY-SA
unless otherwise noted.