This article is about the NPCs that appear in the Fairy Tale quest series. For the monster, see
Ork
.
Orks are stocky, green-skinned humanoids. They have small tusks protruding from their jaws, and prefer to wield large axes and/or maces.
Orks appear at a certain point in Fairy Tale II - Cure a Queen. The Fairy Godfather is trying to replace the Fairy Queen and the fairies with Orks. These Orks have no shown level, and cannot be attacked. They can be talked to, but all they say is "Grunt! Smelly, stinky human! Urgh! Leave us alone before we hurt you."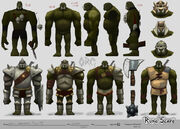 Community content is available under
CC-BY-SA
unless otherwise noted.