{{
Expansion depth limit exceeded
|content|}}
Invalid tag extension name: <span class="error">expansion depth limit exceeded</span>
{{
Expansion depth limit exceeded
|no||}}{{
Expansion depth limit exceeded
}}

Orla Fairweather is part of the camp of humans responsible for the discovery of Divination after the assassination of Guthix. She can be found west of the Lumbridge crater, in Burthorpe, and at the Memorial to Guthix.
The sister of Aoife and Gertrude, Orla was originally cast out of the Fairweather family for preferring dogs to cats.[1]
Orla will award players who have completed all of the Divination achievements 500 flickering energy, worth 104,000 coins. She can also allow players to toggle experience gained from Guthixian butterflies on or off.
Family
Stock
2017 Christmas event
During the quest, The G-Nome Project, Orla resides at the Grand Exchange, helping to smuggle a modified soul obelisk in an attempt to bring the clockwork gnome to life with the help of Doc and Aubury.
Dialogue
Trivia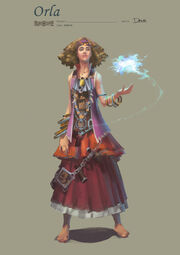 Orla is the second skillcape seller who doesn't wear the cape themselves, after Thok, the master of Dungeoneering. However, Orla is also the first seller that is not a master of the skill themselves.
Orla bears a strong resemblance to Professor Trelawney's character from the Harry Potter film, The Prisoner of Azkaban, where Emma Thompson played Hogwarts' Divination teacher.
References
NPCs

 Orla Fairweather
Rabbits
Butterflies

Engrams
Echoes
Rewards
Music
Other
Community content is available under
CC-BY-SA
unless otherwise noted.