Package is an important item used in the Forgiveness of a Chaos Dwarf quest. It must be retrieved from the Grand Exchange with the Mysterious slip. Hilda left the package for Commander Veldaban before she was turned into a Chaos Dwarf by the Red Axe. The package contains many key items which are direly needed during the quest, namely a Metal rod, a Turnscrew, Green and Yellow stones, a Metal rectangle, a Boot and a Metal bowl, all of which are used for certain things throughout the quest.
The package can be kept after the quest, though the Yellow Stone, Green Stone and Metal rod get used up during it. All the other items, however, can be placed back into the package and stored in one's bank, should the player decide to keep it, which some do as a sort of souvenir.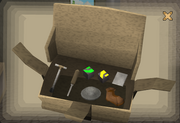 Community content is available under
CC-BY-SA
unless otherwise noted.