Paddewwa Teleport
Release date
18 April 2005 (Update)
Members
Yes
Level
54
Spellbook
Ancient
Type
Teleport
Experience

64

Runes
211
Quest
Desert Treasure

Click animation for full size
[view] • [talk]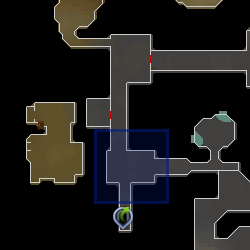 Paddewwa Teleport is a spell from the Ancient Magicks spellbook that teleports the caster to the Edgeville Dungeon. It is sometimes used as an alternative to amulets of glory when Runecrafting through the Abyss. However, this is not recommended as it takes up inventory space, is rather costly and is further from the Edgeville bank while Amulet of Glory teleports, in contrast, can be worn, is free to recharge (on either geyser titans or the Fountain of Heroes) and teleports you directly next to the bank.
As with all Ancient Magicks spells, the quest Desert Treasure must be completed to cast this spell. It is interesting to note that this is one of the few, if not only, teleport spells that takes you underground.
Cost
Input
Cost
112

962

Combo runes
121

1,829

121

1,590

21

1,637

121

1,579

121

1,857

Staves
12

922

12

856

12

856

2

816

111.8

880.4

12

856

12

856

12

922
Community content is available under
CC-BY-SA
unless otherwise noted.