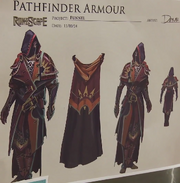 Pathfinder armour is a set of hybrid armour that is obtained by talking to Gudrik after completing the path. It consists of the pathfinder hood, the pathfinder jacket, the pathfinder trousers, the pathfinder gloves, the pathfinder boots and the pathfinder cape. Also given to the player with the set are the amulet, which matches the set's appearance, and ring of potency.
This set, at least in free-to-play, is very marginally better than any level 10 armour sets. This is the best armour set to wear until level 20 armour is accessible.
The pathfinder armour set can be stored in the Armour case in a Player-owned house.
Components and bonuses

Item



Level

Main-hand
Off-hand
Attributes
Style bonus

Style
Dmg
Acc
Style
Dmg
Acc
Pathfinder hood
1
-
-
-
-
-
-
32
0
0
-
-
-
Pathfinder jacket
1
-
-
-
-
-
-
36
0
0
-
-
-
Pathfinder trousers
1
-
-
-
-
-
-
35
0
0
-
-
-
Pathfinder gloves
1
-
-
-
-
-
-
8
0
0
-
-
-
Pathfinder boots
1
-
-
-
-
-
-
8
0
0
-
-
-
Pathfinder cape
1
-
-
-
-
-
-
4
0
0
-
-
-
Amulet of potency
1
-
-
-
-
-
-
2
0
2
-
-
-
Ring of potency
1
-
-
-
-
-
-
3
0
0
1
1
1
Totals
N/A
-
-
-
-
-
-
128
0
2
2
2
2
Residents
Animals
Monsters
Items
Paths
Location
Related
NPCs
Items
Rewards
Locations
Music
Miscellaneous
Free-to-play
Members