Pentyn is an elderly knight trapped in Enakhra's Temple. He was part of a group of Avarrockan knights sent to slay Enakhra and destroy her temple.[1] However, they failed, and the other knights were slain, Pentyn being kept alive and imprisoned in order to bind Akthanakos, powering the blood sphere. Enakhra tortured him, wounding him and starving him.[2]
He had a family, consisting of a wife[3] and at least two children, a son[4] and daughter.[5]
During Enakhra's Lament, he is discovered by an adventurer, who he begs for food. However, he is a very fussy eater, only accepting a baked potato with topping, a pizza, a bread or a whole cake, as they remind him of his family. He helps the adventurer deal with the other rooms in the temple.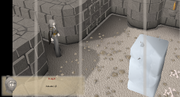 Trivia
His name is a pun on 'serpentine'.
References
Community content is available under
CC-BY-SA
unless otherwise noted.