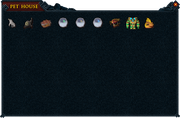 A Pet house can be built in the Menagerie of a player-owned house and is used to store fully grown pets and clockwork cats (thereby saving bank space). Baby pets cannot live in the house. Pets stored in the pet house will roam around the house while the player is in it. As of a hidden update players can now talk to their pets as they roam around the house.
There are several types of pet houses that can be built depending on the player's construction level and each higher level pet house is an upgrade from an existing lower level pet house. For example, building a mahogany pet house requires a teak pet house to exist. It is not needed to remove the pets already stored in the pet house, when you want to upgrade it.
To place a pet into your pet house, first pick it up so that it is in your pack. Then use the pet on the pet house. Alternatively, left-click on the house or right-click on it and choose the Store option. A display will appear showing all the pets you have stored in the pet house. Then click on the pet in your pack to store it.
To take a pet out of your pet house, click on the house. You may then click on a pet and choose the Take option to place it into your pack. However, you can only have one of a particular type of pet in your pack at a time. For example, only one of a Zamorak hawk, Saradomin owl or Guthix raptor can be in your pack.
| | Pet house | Level | Materials | Upgrade Cost[1] | Cumulative Cost[1] | Experience | Max pets |
| --- | --- | --- | --- | --- | --- | --- | --- |
| | Oak pet house[2] | 37 | 4 oak planks | 1,496 | 1,496 | 260 | 5 |
| | Teak pet house[2] | 52 | 4 teak planks | 1,428 | 2,924 | 380 | 10 |
| | Mahogany pet house[2] | 67 | 4 mahogany planks | 3,464 | 6,388 | 580 | 15 |
| | Consecrated pet house | 92 | 4 mahogany planks, 1 magic stone | 974,415 | 980,803 | 1580 | 30 |
| | Desecrated pet house | 92 | 4 mahogany planks, 1 magic stone | 974,415 | 980,803 | 1580 | 30 |
| | Natural pet house | 92 | 4 mahogany planks, 1 magic stone | 974,415 | 980,803 | 1580 | 30 |