This article is about a form of transportation. For the entrance to a player-owned house, see
POH portal
.
A Portal is a form of transportation that enables players to teleport between two places. Unlike ordinary teleports, portals can only be used at a fixed location and they can be used an unlimited number of times.
Skills
Construction
Hunter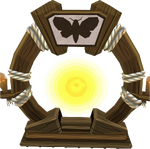 Magic
There are three portals on the top floor of the Wizards' Guild.
Mining
Runecrafting
Dungeoneering
Random events
The following Random events used to use portals as a way of exit.
Quests
Other
There are other portals scattered throughout RuneScape.
Community content is available under
CC-BY-SA
unless otherwise noted.