Script error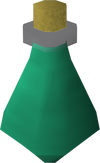 A prayer potion is a potion made with Herblore that restores 72-317 Prayer points (70 + 25% of total Prayer points) per dose. It appears as a vial containing an aquamarine fluid. This potion provides 10 fewer Prayer points of restoration than a super restore.
Members can make a prayer potion at level 38 Herblore by adding a clean ranarr to a vial of water, and then mixing in snape grass. This makes a potion with three doses, and grants 87.5 experience.
Prayer potions are almost always in high demand due largely to the common use of protection prayers and smiting as a defence in combat. Having a way of restoring Prayer points in the middle of battle, without the need of an altar, is very convenient.
For players who have completed Rum Deal and have a holy wrench in their pocket slot, 10-30 additional prayer points will be restored per dose of prayer potion. Unfortunately, for the wrench to provide more prayer than an additional prayer potion would have, a player must have both nearly a full inventory of prayer potions and a prayer level of at most around 60.
Assuming the player purchases ranarr potion (unf) and snape grass and with almost no distractions, creates 2,200 potions per hour, this would give approximately 192,500 experience per hour.
Adding wyvern bonemeal to this potion will make a super prayer potion. A 4-dose prayer potion can be combined with a 4 dose prayer renewal in a crystal flask to create a super prayer renewal potion.
Note that it may be more economic to use super restore potions, since these also restore summoning points and other stats. This also saves inventory space.
Price per dose
Item
GE price
Price per dose
Prayer potion (1)

Script error

Script error

Prayer potion (2)

Script error

Script error

Prayer potion (3)

Script error

Script error

Prayer potion (4)

Script error

Script error

[[File:

Script error

(6).png|link=]]

Script error

(6)

Script error

Script error
Creation
Script error
Production costs
Unfinished ranarr potions may be substituted, and may be cheaper to buy. The current price is

Script error

gp per unfinished potion or Expression error: Unexpected < operator.gp for both materials. This also allows the first and xp-less step to be skipped, slightly speeding the process.
Prayer restoring potions
Script error If a potion is untradeable the price of the ingredients is used instead. Prayer points needs to be rounded down after using the formulas.
Extra amounts
Item
Normal
amount
With Holy wrench

With Reverence

With Holy wrench and Reverence
+

Prayer potion
317
337

Tier 1: 347   Tier 2: 367
Tier 3: 386   Tier 4: 416

Tier 1: 367   Tier 2: 387
Tier 3: 406   Tier 4: 436


Super restore
327
347

Tier 1: 357   Tier 2: 377
Tier 3: 396   Tier 4: 426

Tier 1: 377   Tier 2: 397
Tier 3: 416   Tier 4: 446


Sanfew serum

Replenishment potion

Super prayer
416
436

Tier 1: 446   Tier 2: 466
Tier 3: 485   Tier 4: 515

Tier 1: 466   Tier 2: 486
Tier 3: 505   Tier 4: 535


Prayer renewal
545
575

Tier 1: 575   Tier 2: 595
Tier 3: 615   Tier 4: 644

Tier 1: 605   Tier 2: 625
Tier 3: 645   Tier 4: 674


Super prayer renewal potion
912
962

Tier 1: 972   Tier 2: 1011
Tier 3: 1051   Tier 4: 1110

Tier 1: 1022   Tier 2: 1061
Tier 3: 1101   Tier 4: 1160
Flask
This potion can be made into a Prayer flask by using at least six doses of it with a potion flask. Players do not need a specific level to turn potions into flasks.
Disassembly
Script error
Obtaining
Drop sources
Prayer potion (1)
Script error
Prayer potion (2)
Script error
Prayer potion (3)
Script error
Prayer potion (4)
Script error
Other
Prayer potions (1) can sometimes be found inside barrels.
Script errorScript error
Community content is available under
CC-BY-SA
unless otherwise noted.