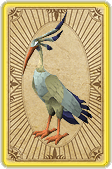 The preening ibis card is an item that can be found during the Sinkholes Distraction and Diversion. When used, it adds a piece of the Hoardstalker outfit to the player's chest which can be worn outside of the Sinkholes. However upon finishing the Sinkhole, "The Naabe" title may be rewarded instead of clothing. Once a player owns the title and armour, the Preening ibis card will instead reward them with a Hoardstalker ring.
To obtain a piece of the Hoardstalker outfit, a player must finish the game with a chest containing it. Playing this card does not guarantee that the player will receive an outfit piece at the end of the game, as their chest may be swapped by the other players.
NPCs
Hoardstalker weapons
Hoardstalker outfit
Enemies
Resources
Other rewards
Cards
Familiars
Other
Community content is available under
CC-BY-SA
unless otherwise noted.