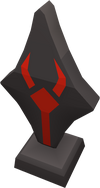 Prized ancient statuette is an item that appears in Meg's cases when Mandrith loses the statuette in the Edgeville Dungeon. During the case, the statuette can be dropped by Skeletons inside the dungeon. Only one statuette can be owned, picking up a second one will cause it to disappear. However, with speed and skill, another can be obtained for keeps. First, a player must kill skeletons so that two statues are on the ground. Pick up one, complete the case, then run back down to the dungeon and pick the second statue up.
NPCs
Enemies
Items
Rewards
Related
Community content is available under
CC-BY-SA
unless otherwise noted.