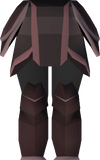 Promethium platelegs are a leg armour used in the Dungeoneering skill. They are made by smithing Promethium bars. They require a Defence level of 90 to equip. To make a Promethium bar you need 1 Promethium ore. Promethium platelegs require 3 bars to be made, needing 97 Smithing and giving 283.5 experience. It is dropped by the Flesh-spoiler Haasghenahk and by forgotten warriors.
Creating
Promethium platelegs
-
283.5 XP
-
-
Requirements
Smithing level
97
Members only
Yes
Materials
Item
Quantity
Price
Total
Promethium bar
3
N/A
-
Drop sources
This list was created dynamically. For help, see the FAQ.
To force an update of this list, click here.
For an exhaustive list of all known sources for this item, see here.
| Source | Combat level | Quantity | Rarity |
| --- | --- | --- | --- |
| Flesh-spoiler Haasghenahk | 7; 16; 25; 35; 44; 54; 63; 72; 82; 84; 88; 91; 92; 96; 100; 105; 109; 110; 113; 117; 120; 121; 126; 128; 130; 134; 138 | 1 | Random |