Pumpkin launcher
Release date
28 October 2015 (Update)
Members
No
Slot
2h weapon
Equipment
Two-handed crossbow
Recolourable
No
This cosmetic will not display
in PvP-enabled areas.
[view] • [talk]
The Pumpkin launcher is a two-handed crossbow override which can be redeemed with 300 candy corn, obtained from Treasure Hunter between 29 October and 4 November 2015.
In combat, it gives a cosmetic 'pumpkin burst' effect on targets hit with non-ability auto-attacks only.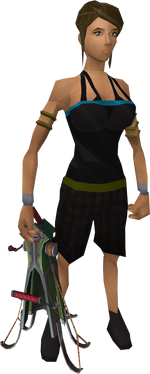 NPCs
Items
Locations
Music
Related
Community content is available under
CC-BY-SA
unless otherwise noted.