The Pyramid journal can be obtained by rummaging skeletons in the Uzer Mastaba during the Missing My Mummy quest.
When you select check progress you will get the following screen: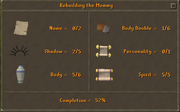 Drop sources
This list was created dynamically. For help, see the FAQ.
To force an update of this list, click here.
For an exhaustive list of all known sources for this item, see here.
Transcript
Another day another coin. Sound like Ali Morrisane is recruiting again and I guess I'll give him another chance. That last job with the dung and the chili sauce was embarrassing but he did pay up.
So, I'm off to an ancient pyramid to invastigate reports of ancient treasures. This is far more what I was looking for in life. Things are on the up and maybe we'll strike it rich this time.
Seems we are not the first gang he's sent to this pyramid, the last lot just came back with a bunch of old papers. Maybe I was too optimistic about chance of mighty loot.
The others with me are a disreputable lot, I'd not be shocked if they would rob me as soon as look at me. I'm pretty sure that Ali the Shovel was rummaging in my gear last night. Still, he looks good in a scrap so I'll overlook it for now. We've arrived at the pyramid and are trying to find some way in. The main entrance seems magically sealed to us, despite there being no visible block to the door.
Ali the Engineer has opened up and old shaft to one side of the pyramid, looks like we'll be in tomorrow. The work is much more strenuous than I thought when I signed up. What's more, this A M C E gear is so shoddy it hurts. We'll be digging with spoons soon.
We made it inside, perhaps it will be more exciting than in the desert. I don't usually complain about food, but these A M C E supplies are vile. I'm pretty sure they could market under the slogan 'We put the rat into rations.'
Ali the Engineer is a camel's rump - the tunnel he was working on collapsed, leaving us in the main tomb. At least it collapsed on him.
There's something further in and I don't like the sound of it.
Ali the Egghead bored us senseless with tales of how we entered a room depicting some history of the pyramids inhabitant. That he wandered off and his screams still echo in my mind.
The last of the water ran out after we killed that stone monstrosity. Nothing but cudgelling it with blunt weapons seemed to do anything. Its remains are still out there, yelling of curses.
More hours in this tomb, with food low and the stone terror's echoing warnings stopping sleep. I feel worse even than that might sound. I pray for rescue.
Ali the Shovel is moving again, but not in a good way. The curse...
Disassembly
Community content is available under
CC-BY-SA
unless otherwise noted.