The Quest kit (advanced) is a reward from the Mobilising Armies minigame. It has the ability to turn into items that are commonly used in quests. This item is similar to the Rogue kit.
It can hold the following tools:
Converting your Morphic tool into a needle, pickaxe, or a knife will not allow you to carry it in the Quest kit.
This item can be used for quests to save inventory space. Every time you complete a game of Mobilising Armies, the kit replaces any used or banked items. If you have a Quest kit (basic) or Quest kit (medium) when buying the Quest kit (advanced) the price will be reduced.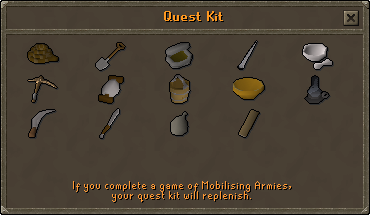 Disassembly
Trivia
You can get free supplies from the Quest Kit. If you open a new quest kit and remove any of the items that are in the kit, you can then bank the item(s) and then play 1 game of Mobilising Armies and the kit will regenerate any items removed.
With the introduction of the tool belt, this item has become less useful as many of the tools it hold could be placed on the tool belt instead.
Community content is available under
CC-BY-SA
unless otherwise noted.