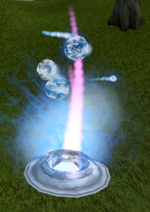 A radiant wisp is a tier 10 wisp harvested in the Divination skill. Upon being harvested, it will transform into a radiant spring, from which radiant memories and radiant energy may be gathered.
Each harvest of a radiant wisp yields 10 divination experience, 20 if an enriched radiant memory is harvested. Players can gain around 68,000-71,000 experience an hour from training at radiant wisps without using additional bought energy. With the use of a light creature familiar, an enrichment aura and the Prism of Dowsing spell players can gain around 78,000 experience an hour.
It would be wise for players who are not already 99 Divination, to take advantage of the Guthixian Cache boost. With the cache boost, you have a 10% chance of converting all of your energy. Along with this boost, the Enrichment aura and a Nightmare muspah would be advised to use, since it would greatly help you increase the experience you get an hour. With Cache boost, Nightmare Muspah familiar, Enrichment aura and additional bought energy, players can expect upwards 100k experience an hour.
Getting there
The boat to Dragontooth Island from Port Phasmatys is free of charge.
Required: Amulet of ghostspeak or Cramulet. If you have completed all of the Morytania hard tasks, it is not required anymore.
Gathering

Wisps
Springs
Memories
 Pale
 Dragonkin
 Mah
Energy
Boons
Chronicles
 Chronicle fragment
 Elder chronicle
Cores
Rifts / sources
Community content is available under
CC-BY-SA
unless otherwise noted.