Walkthrough
Getting started
Obtaining the Bones
Obtain the bones. Use the table below as a reference.
Finishing up
Go to Draynor Village market and talk to Fortunato about the quest (do not steal from the stalls before talking to him, as you won't be able to initiate the conversation for a couple of minutes).
Buy 8 jugs of vinegar.
Use the jugs of vinegar on your empty pots.
Use each bone on the pots of vinegar.
Obtain 8 logs.
Go back to the Odd Old Man's hut.
Add logs, then pot of bones to the boiler then light it. Remove the bone when it finishes boiling.
Repeat for the remaining bones.
Talk to the Odd Old Man.
Quest complete!
Rewards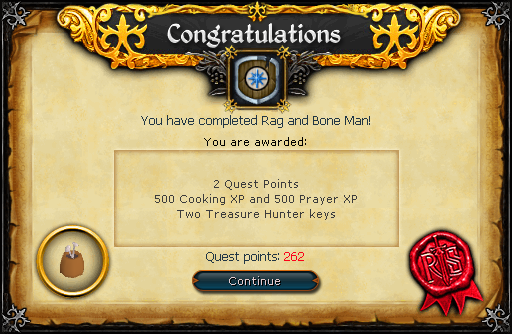 NPCs
Items
Scenery
Miscellaneous
Quick guide • Transcript
Community content is available under
CC-BY-SA
unless otherwise noted.