Ramokee stormbringer
Release
2 November 2010 (Update)
Members
Yes
Examine
A former gorajo, exiled for an unspeakable crime.
Combat info
Level
LP
XP
XP
28
1,000
44.4
14.6
Equipment XP (2H/MH & Armour/OH)
2 / 1 / 0
Aggressive
Poisonous
Offensive
Max hit
0
0
120
0
Style
Speed

6 ticks (3.6s)

Combat levels
Defensive
Armour
Weakness
316
20
Affinities
90
45
65
55
Immunities
[FAQ] • [doc]

The ramokee stormbringer is a monster found in Daemonheim, encountered in the Dungeoneering skill. The Ramokee stormbringer, similar to the Mercenary leader, is always found in a room with at least one Guardian door. It is found in a room with a Ramokee skinweaver, a Ramokee deathslinger, and a Ramokee bloodrager; these monsters attack with magic, ranged, and melee, respectively. It should be killed after the Ramokee skinweaver.
One is encountered during both Thok It To 'Em and Nadir (known as "Hooved mage"), the Fremennik Sagas. In the former, it is killed by Thok to access the next room along with the other ramokees. In the latter, it is killed by Moia when it sounds the alarms as it sees through the disguise of the part Mahjarrat.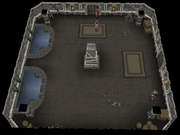 All floors
Frozen floors
Abandoned floors
Furnished floors
Occult floors
Warped floors
Bovimastyx
Slayer
Puzzle room
Ramokee stormbringer
Boss room
Community content is available under
CC-BY-SA
unless otherwise noted.