Not to be confused with attackable cave lizards inside the Ourania Cave.
A red salamander is a creature that can be caught using the Hunter skill. A Hunter level of 59 is required to catch it. Red salamanders give 272 Hunter experience when caught. It can be caught by using a small fishing net and a rope on a young tree, after which players can use it as a ranged weapon.
Location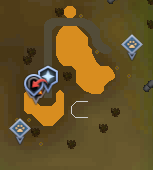 The Ourania Hunter area is located west of the spirit tree near the Battlefield of Khazard. To get there, use the Lunar magic spell Ourania Teleport, travel using the spirit trees, or teleport to Castle Wars Arena and walk north. There are two spots in which hunting salamanders is possible: one is located directly south of the altar, the other is located east of the entrance of the path that leads to the altar.
Hunting tips
Once a net trap has caught a salamander, it remains in the trap for 60 seconds before escaping, and the trap will dismantle itself. It is possible to release them while creating or dismantling a trap without any adverse effects.
There is also a bank underneath the altar however the bank requires 20 of a certain amount of rune.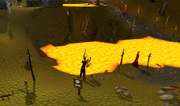 Community content is available under
CC-BY-SA
unless otherwise noted.