Reinald's Smithing Emporium is a shop that allows the player to change their basic clothing armguards for 500 coins. It is run by Reinald. It is located in the north-east corner of Keldagrim, requiring the player to have started The Giant Dwarf to access it.
As of 25 August 2010, Thessalia's Makeovers allows players to change their armguards for free, as part of a base clothing update.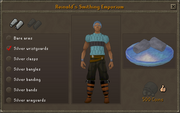 Silver
| Bare arms | Silver wristguards | Silver clasps | Silver bangles | Silver banding | Silver bands | Silver armguards |
| --- | --- | --- | --- | --- | --- | --- |
| | | | | | | |
| | | | | | | |
Gold
| Bare arms | Gold wristguards | Gold clasps | Gold bangles | Gold banding | Gold bands | Gold armguards |
| --- | --- | --- | --- | --- | --- | --- |
| | | | | | | . |
| | | | | | | |
Trivia
Reinald will call the player a "fashion rebel" if they choose no armbands.
Asgarnia

Burthorpe
 Carwen Essencebinder Magical Runes Shop
 Gaius's Two-Handed Shop
 Gnome Shopkeeper's Armoury
 Toad and Chicken
Burthorpe Supplies (removed)
Corporal Boothe's Armoury (removed)
Dwarven Mine
Entrana
 Frincos's Fabulous Herb Store
Falador
Port Sarim
Rimmington
 Rimmington General Store
 Brian's Archery Supplies
 Rommik's Crafty Supplies
Taverley
Other areas
Feldip Hills

Gu'Tanoth
 Dal's General Ogre Supplies
 Grud's Herblore Stall
Jiggig
Oo'glog
 Gift Shop
 Fresh Meat
Fremennik Province

Etceteria
 Etceteria Fish
 Island Greengrocer
Jatizso
Lighthouse
 The Lighthouse Store
Lunar Isle
 Moon Clan General Store
 Moon Clan Fine Clothes
Miscellania
Neitiznot
 Neitiznot Supplies
Rellekka
Guilds

Champions' Guild
Cooks' Guild
 Pie Shop
Fishing Guild
 Fishing Guild Shop
Heroes' Guild
Legends' Guild
Ranging Guild
Thieves' Guild
 Dodgy Derek's Dirty Deals
Warriors' Guild
 Warriors' Guild Armoury
 Warriors' Guild Food Shop
 Warriors' Guild Potion Shop
Wizards' Guild
 Magic Guild Store - Mystic Robes
 Magic Guild Store - Runes and Staves
Kandarin

Catherby
East Ardougne
King Lathas's training ground
Piscatoris Fishing Colony
 Arnold's Eclectic Supplies
Port Khazard
 Khazard General Store
Tree Gnome Stronghold
Tree Gnome Village
 Bolkoy's Village Shop
West Ardougne
 West Ardougne General Store
Seers' Village
Witchaven
 Lovecraft's Tackle
Yanille
 Aleck's Hunter Emporium
 Frenita's Cookery Shop
 Pet Shop
Other locations
Karamja

Brimhaven
 Davon's Amulet Store
 The Shrimp and Parrot
Herblore Habitat
Musa Point
 Karamja General Store
 Karamja Wines, Spirits, and Beers
Shilo Village
 Obli's General Store
 Fernahei's Fishing Hut
Tai Bwo Wannai
TzHaar City
 TzHaar-Hur-Lek's Ore and Gem Store
 TzHaar-Hur-Tel's Equipment Store
 TzHaar-Mej-Roh's Rune Store
Kharidian Desert

Al Kharid
Bandit Camp
 Bandit Bargains
 The Big Heist Lodge
Bedabin Camp
Duel Arena
Menaphos
Monkey colony
 General Store
 Gem Store
Nardah
Pollnivneach
 Pollnivneach General Store
 The Asp & Snake Bar
Sophanem
Other areas
Morytania

Burgh de Rott
 Aurel's Supplies
Canifis
Darkmeyer
Meiyerditch
Mort Myre Swamp
 Wishing well
Mort'ton
 Razmire General Store
 Razmire Builders' Merchants
Port Phasmatys
 Port Phasmatys General Store
 Alice's Farming Shop
Troll Country and Keldagrim

East Keldagrim
Troll Stronghold
West Keldagrim
Community content is available under
CC-BY-SA
unless otherwise noted.