Revenant outfit
Release date
12 October 2015 (Update)
Members
No
Components
9
F2P Price
666 RuneCoins
P2P Price
600 RuneCoins
Loyalty Points
N/A
Recolourable
Yes
Available colours
Description
The power of the Revenant is still largely unknown - many have attempted to uncover the secrets they hold. Just as many have failed. However those who accept the Revenant gift feel a power many do not, and find themselves brimming with energy so powerful they can remain elevated from the ground and control their weapons without a touch.
These cosmetics will not display
in PvP-enabled areas.
[view] • [talk]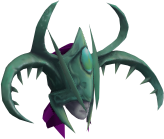 The Revenant outfit is a cosmetic override set that appears in Solomon's General Store. It consists of:
Revenant cuirass
Revenant greaves
Revenant boots
Revenant cuffs
Revenant helmet
Revenant wand
Revenant staff
Revenant orb
Community content is available under
CC-BY-SA
unless otherwise noted.