The Reward box is found in the Dominion Tower and can be accessed after finishing a fight in the tower. Two others are found on the ground floor on either side of the Strange face. Rewards received from the box are determined by the amount of Dominion Factor the player has, which is determined by the particular fight and the mode being played. After a game has finished, players can look in the reward box to receive item rewards based on their current Dominion Factor (only that which was received in the most recent game).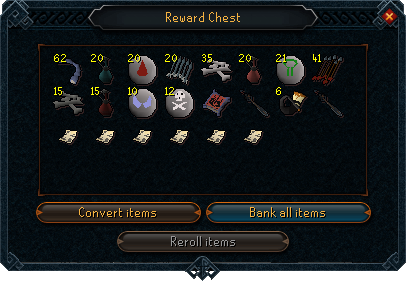 The interface allows players to convert rewards specific to Dominion Tower into an experience book (or to add to an existing experience book), to bank all items (except an experience book), to reroll the rewards (if the player is wearing a Desert amulet 4), or to take items into inventory individually by clicking on them.
A right-click "Check-DF" option allows players to check how much Dominion Factor they have without claiming the rewards.
A right-click "Exchange" option converts rewards specific to Dominion Tower that are in inventory into an experience book (or adds to an existing experience book in inventory).
Possible items received from the box include:
The Reward Box will only give players up to 20 of any individual item at once, excluding scorpion meat.
Bosses

Class A
Class B
Class C
Class D
Class E
Class F
Class G
Class H
Class X1
Class X2
Miscellaneous
In-fight

Orbs
Items
Companions
Rewards

Power-ups
Gloves
Mines
 Dominion
 Ascendancy
Dominion markers
Dominion medallion
 Regular
 Super
 Extreme
Miscellaneous
Music

Dominion Lobby
Dominion Tower
Community content is available under
CC-BY-SA
unless otherwise noted.