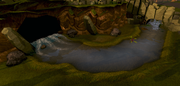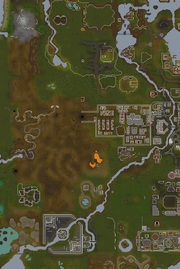 The River Dougne is the longest river in RuneScape and runs through Kandarin, a members-only kingdom. The city of Ardougne is named after this river, which begins at Baxtorian Falls.
Crossings
By bridge
By Agility
Log balance in East Ardougne (requires 33 Agility)
Fishing spots
The river has many Fishing spots along it. These are:
Trivia
As Ardougne, the major city on the River Dougne, is pronounced "Arr-doyn", the river itself is most likely pronounced as "Doyn".
Before the Castle Wars update, there was a small section of the river that connected to the stream that lead into the cave below Castle Wars, effectively making the entrance an island. This was removed in a hidden update, most likely making access to Castle Wars much quicker.
Community content is available under
CC-BY-SA
unless otherwise noted.