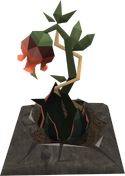 Roseblood is a tier 4 plant in Daemonheim, found randomly within rooms. Members need level 30 Farming to harvest it to receive 1-5 Roseblood at 17.5 experience per roseblood picked. This can then be spun into Roseblood cloth and crafted into Roseblood equipment.
See also
Food seeds
Herb seeds
Plants
Community content is available under
CC-BY-SA
unless otherwise noted.