Walkthrough
Start point

Go to Miscellania and speak to Advisor Ghrim in the castle.
Member requirement
Members only
Official difficulty
Experienced
Official length
Medium to Long
Requirements
Skill requirements are not boostable unless marked with a [B] for boostable.

Quests:

Recommended:

43 Prayer might be useful for the final fight

Items required
Items from the tool belt are not listed unless they do not work or are not automatically added.

Five pieces of coal (obtainable during quest)

Recommended
Enemies to defeat
Getting started
Miscellania Dungeons
Gear for the final fight and enter the dungeon south of the Miscellania courtyard. Having 8 free inventory spaces is recommended.
Go into the bar to the east, and speak with Donal.
Head north-west to use the Mining Prop on the crevice, and go through.
Fixing the Lift
Pick up the engine, 3 pulley beams, 3 beams, and some rope from the crates.
Put 5 coal in the engine.
Use a pulley beam on the broken scaffolding.
Use a beam on a pulley beam, and you'll get a long pulley beam.
Attach another beam to get a longer pulley beam, use that on the scaffolding.
Use your last pulley beam.
Use your rope on the scaffold.
Use the third beam on the platform (north side).
Use the engine with coal in it on the engine platform.
Exploring the Tunnel
Grab another rope, go up the lift and pick up the plank off the ground, and enter the tunnel.
Continue east.
Use your rope on the overhanging rock and swing across.
Search the fire remains to obtain a burnt diary.
Use the plank to cross the small rocks.
Search the other fire remains to add pages to the diary.

Note: the steam vents in this area will hurt you slightly. Surge across to avoid any damage.

Make your way to the end of the tunnel, collecting the remaining diary pages.
Read the burnt diary.
Squeeze through the crevice at the end.
Final Fight
After the cutscene talk to anyone of the 5 NPCs.
Continue down the tunnel, squeeze through the crevice.
Kill the Giant Sea Snake, and pick up the heavy box.
Go back through the crevice and a guard will drop a rope down to help you up.
Talk to Queen Sigrid.
Talk to King Vargas (you can drop the empty box and diary).
Quest complete!
Rewards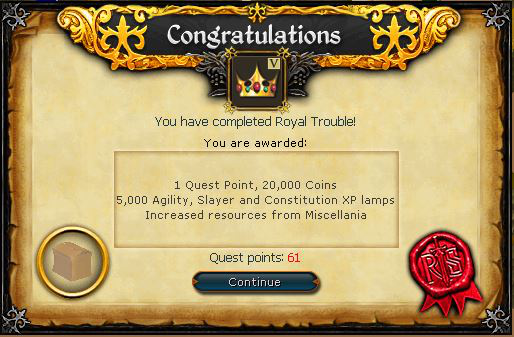 20,000 coins

5,000 experience lamp
5,000 experience lamp
5,000 experience lamp
Increased resources from Miscellania
Access to the dungeon connecting Miscellania and Etceteria
2 Treasure Hunter keys and 2 Hearts of Ice

Music unlocked