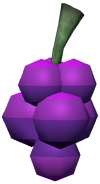 A rumberry is a kind of berry that may be found on the island of Tuai Leit and Goshima. It can also be grown on a rumberry bush in the berry planter on Tuai Leit using a rumberry seed with level 86 Farming. Eating a rumberry temporarily increases Attack by 2 levels and reduces Defence by 1.
30 rumberries are required for the Tuai Leit's Own miniquest to make the rumberry elixir.
They can also be used at 94 Cooking to make Arc gumbo along with Bundles of bamboo, Sea salt, and Fish oil in a Tortle shell bowl.
Drop sources
This list was created dynamically. For help, see the FAQ.
To force an update of this list, click here.
For an exhaustive list of all known sources for this item, see here.
Store locations
Community content is available under
CC-BY-SA
unless otherwise noted.