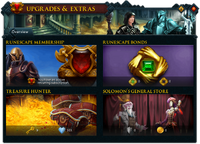 RuneCoins are a type of RuneScape currency released on 17 July 2012. Bought through microtransaction, they are used to buy cosmetic items in Solomon's General Store, which is found in the Extras tab.
RuneCoins can be obtained with real world currencies. In a Jagex RuneScape livestream, it was discussed that they were thinking of other ways to give players RuneCoins other than buying them.
Items you can buy from Solomon's General Store include cosmetic outfits, titles, achievement banners, new animations for fishing, woodcutting, herblore, mining, and slayer, some unique emotes and teleportation animations as well as a new high alchemy animation. Additional bank space may also be purchased.
In the Solomon's Store FAQ, Jagex confirmed that RuneCoins could only be bought through the billing system at the time, and are not available through gameplay. It was also stated that Loyalty points, Squeal of Fortune spins and Gold cannot be used to buy anything from Solomon's General Store.[1] However, this has been changed with the merge of the Membership Loyalty Programme as now certain items are given an alternative to be purchased with Loyalty Points. RuneCoins can now also be obtained with Bonds, which can be obtained by payment or in the Grand Exchange, giving 195 RuneCoins per bond. RuneCoins can now also be earned by clicking the earn tab in Solomon's General Store.
RuneCoins have a maximum life span of twelve months from purchase. If RuneCoins remain in a player's balance for twelve months after they were purchased or generated, they disappear without a refund.[2]
Costs
Currency
200 RuneCoins

[Cost/RC]

400 RuneCoins (+20 bonus)

[Cost/RC]

800 RuneCoins (+100 bonus)

[Cost/RC]

2000 RuneCoins (+400 bonus)

[Cost/RC]

4000 RuneCoins (+1200 bonus)

[Cost/RC]

British Pound
£3.69

[£0.019]

£7.39

[£0.176]

£14.79

[£0.016]

£36.99

[£0.015]

£73.99

[£0.142]

US Dollars
$5.99

[$0.030]

$10.99

[$0.026]

$21.99

[$0.024]

$54.99

[$0.023]

$109.99

[$0.021]

Brazilian Real
R$4.99
R$9.99
R$19.99
R$49.99
R$99.99
Euro
€3.99
€8.00
€16.00
€39.99
€79.99
Canadian Dollars
$4.99
$9.99
$19.99
$49.99
$99.99
Australian Dollars
$5.79
$11.59
$23.19
$57.99
$115.99
New Zealand Dollars
$5.99
$11.99
$23.99
$59.99
$120.00
Swedish Kronor
30kr
60kr
120kr
300kr
600kr
Norwegian Kroner
30.99kr
61.99kr
123.99kr
309.99kr
619.99kr
Danish Kroner
25kr
50kr
100kr
250kr
500kr
Certain quantities of RuneCoins are only available with certain payment methods.
Other offers
There are also packages available to American players. If an American player uses game cards (available for $10 or $25) they have a range of options when redeemed, such as spins:
460 RuneCoins and 40 Treasure Hunter Keys for $25
Note: These prices are only for online billing.
Game cards offer lower values than these.
Currently, if bonds are used, it costs 97,095 per runecoin.
Premier Club
If a player had joined the Premier Club and purchased a silver or gold package during the 2012-2013 sale, the player was granted 500 RuneCoins or 2000 RuneCoins respectively as part of their package.
The value of RuneCoins included in the Silver package is worth aprox $11.90USD with numerous other benefits included.
The value of RuneCoins included in the Gold package is worth aprox $41.70USD with numerous other benefits included.
Controversy
RuneCoins have caused much controversy, as some players consider it a form of real world trading (RWT) which Jagex has fought against for years. The terms and conditions of RuneScape, updated since the release of Solomon's General Store, making it clear that Jagex define RWT as "a third party selling content which does not belong to them". Jagex consider all in-game items, XP and currencies property of Jagex.
References
Community content is available under
CC-BY-SA
unless otherwise noted.