The RuneFest Foo Lion is an Arc themed companion pet that was obtained from Diango or Ianto by entering the redeem code RFLiveStream2016; the code is not case sensitive. The redeem code was announced during the RuneFest 2016 live stream.
It can be interacted with to perform an emote.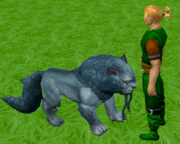 Names
The lion's default name is RuneFest Foo Lion, but it can be renamed to any of the normal pet names:
Available pet names
Abaddon
Ahriman
Arc
Arezzo
Ash
Azazel
Bakeneko
Ballista
Barney
Bernard
Bernie
Blemp
Bombarde
Boneshi
Boomer
Bop
Boxy
Breach
Brimstone
Broadside
Bulwark
Casey
Casketteer
Cerberus
Charlie
Chernobog
Chloe
Claude
Cocoa
Combustio
Crispy
Crush
Cyclops
Daisy
Darklight
Deathbreath
Diabolos
Dino
Dirge
Draconis
Dracul
Drago
Drake
Drifter
Dusty
Ember
Fangs
Fido
Fifi
Firebelly
Firestarter
Fling
Flopsy
Fluffy
Forge
Forrest
Fury
Grimalkin
Grog
Hoppy
Igneous
Immy
Jack
Jane
Jet
Kibbles
Kirin
Kitsune
Kitty
Leandros
Led
Legs
Lei
Leonard
Leonidas
Linus
Lionel
Liono
Loup
Lycia
Magma
Magnus
Matey
Moley
Mr Punchy
Mr Stampy
Ms Punchy
Ms Stampy
Nemea
Nibbles
Nova
Nuke
Pandora
Patch
Pearl
Peggy
Penny
Pepper
Peter
Phantom
Phox
Pinyin
Pixiu
Polyphemus
Pookie
Puffy
Red Fang
Rex
Reynard
Riddle
Roasty
Rocky
Ruth
Sanguis
Sawbones
Shatter
Shinetails
Sifu
Silverlight
Simurgh
Skelesaur
Sleepy
Snookums
Snowy
Sparks
Sparky
Speedy
Spot
Squishy
Stan
Sunder
Thirsty
Tiankong
Tiddles
Timmy
Tiny
Titus
Toasty
Trample
Treasure Holder
Trebuchet
Whitebearrrd
Widget
Woobie
Xiongmao
Zhe
Zhu
Trivia
The RuneFest Foo Lion is a reference to Chinese guardian lions, known in Chinese as 福獅 (fúshī, or "fortuitous lion").
Events
Rewards
Miscellaneous
Hallowe'en
Christmas
Easter
Thanksgiving
Cryptic Clue Fest
RuneFest
Commemorative
Other
Community content is available under
CC-BY-SA
unless otherwise noted.