The Great Orb Project
Clan Chat - RSW Events
Location - Runecrafting Guild, World 16 (Or 29, if 16 fills)
Date & Time
UTC
Pacific
Mountain
Central
Eastern
   UK   
Europe
East Aus
8:00 pm
Sat, 12 Feb
12:00 pm
Sat, 12 Feb
1:00 pm
Sat, 12 Feb
2:00 pm
Sat, 12 Feb
3:00 pm
Sat, 12 Feb
8:00 pm
Sat, 12 Feb
9:00 pm
Sat, 12 Feb
7:00 am
Sun, 13 Feb
And the part we will really grit our teeth over: we will be playing on the Air rune running server.
Details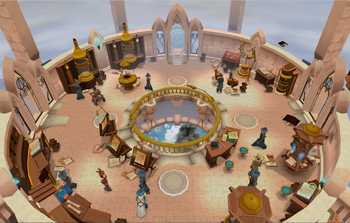 Keep in mind that we are not playing 50/50 games.
This event will simply be a series of games of Great Orb Project for wiki users. However, unlike most games of GOP, we will be playing on the Air Running server, just to bother the air runners

. On the condition that it becomes too difficult to find a game on world 16, you are free to move to world 40 to continue playing. Additional backup servers will be determined as required.
Feel free to discuss here.